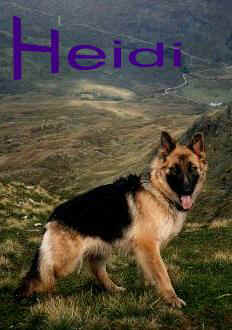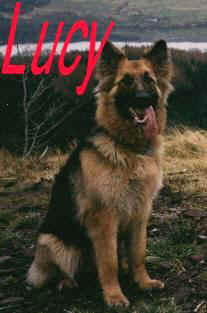 CDRM
(Degenerative Myelopathy in German Shepherd Dogs)
UK Medications
My 2 dogs, Heidi and Lucy suffered from CDRM. Heidi was diagnosed in April 1998 and Lucy in December 1998. They are both from the same litter and were born in April 1989. Lucy Died in September 1999 and Heidi followed in November the same year. Both followed the regime of Dr RM Clemmons, using the medications and supplements.
Everybody should have the choice to try out the medications as part of the Dr. RM Clemmons regime. Buying from the States is fine, but it can be expensive and not always reliable (depending on the method of post you choose).
I tried to locate a UK supplier since I first heard of the medications. Originally I found a number of chemists that could supply both meds as a branded product. The problem was that the Acetylcysteine came in vials (injectable) only and the Aminocaproic acid cost £642 for a months supply!!
The good news is that I have now located a company called BCM Specials (A Boots the Chemist Company), that have committed to making a supply of both products at a price that is competitive with The U.S. supplier but without the hassle of customs and UK handling charges.
I wish you and your dogs the best of luck and good health.
Simon Nicholls
simon@nicholls.f9.co.uk
---
The medications are now ready for ordering.
Acetylecysteine (check price per 100ml) (20% solution)

Aminocaproic Acid (check price per 100ml) (25% solution)

Go to your local Chemist either national i.e. Boots, etc or independent.

Present your veterinary prescription.

Inform them it can be ordered from BCM Specials using their freephone number 0800 9521010

BCM will invoice the Chemist directly (most will already have an account with the company)
It is apparent that some Chemists will add a percentage to the order. This can vary. Lloyds chemists for instance add a whopping great 25%. My local independent chemist added 10% after some negotiation. The good news is though that Boots The Chemist add nothing at all and some even have discount deals with local Vets. Now you know.
---
MedCalc. A simple Excel based program for calculating amounts and dosages of medications for your dog. Download it free.
---
your vet may require a print out of the above page
| | |
| --- | --- |
| | |
| | |
| | |
| | Westlab Pharmacy Supplier of medications to the UK from the States |